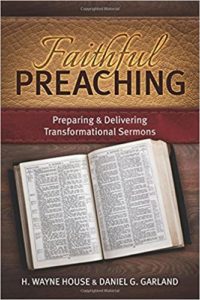 Faithful Preaching will teach you a clear and systematic procedure for developing expository sermons, from reading the text of Scripture to presenting the message before your congregation. Drs. House and Garland show ministers – those who are familiar with the original languages of Scripture and those who are not – how to prepare sermons that accurately and authoritatively preach the message God has given in the Bible.
"In a day when preaching has been marred by a topical or prosperity approach, Drs. House and Garland challenge us to speak as the prophets who said, 'thus saith the Lord.' They do this by urging their readers to learn to preach expository sermons, preaching that comes directly from the text of Scripture. They are able to do this in this outstanding work through careful, progressive presentation and abundant examples. I encourage all ministers who desire to be faithful to the preaching of the Word of God to read this book, and practice it."
Dr. Melvin V. Wade, Sr.
Pastor, Mount Moriah Baptist Church, Los Angeles, California
Former President of the National Missionary Baptist Convention of America
---
Daniel G. Garland has served in pastoral ministries in Idaho and Oregon since 1974. He has a Doctor of Ministry from Faith Evangelical Seminary, Tacoma, Washington. Dr. Garland is an adjunct professor at Corban University, Salem, Oregon, and Faith Evangelical Seminary.
H. Wayne House is a distinguished Research Professor of Theology, Law, and Culture at Faith Evangelical College and Seminary in Tacoma, Washington. He holds a Doctor of Theology from Concordia Seminary, St. Louis and a Juris Doctorate from Regent University. Dr. House is author, co-author or editor of over thirty books, author of scores of journal and magazine publications, and a contributor to several books, dictionaries and encyclopedias. Among his many books are the Nelson Study Bible (NT editor) and Nelson's New Illustrated Bible Commentary (NT editor).